A single 30-meter-tall mature tree can absorb as much as 22.7 kilograms (50 pounds) of carbon dioxide in a year, which over it's lifetime is approximately the same amount as would be produced by an average car being driven 41,500 kilometers (25,787 miles). The same tree could also produce 2,721 kilograms (5,998.78 pounds) of oxygen in a year, which is enough to support at least two people. According to the University of Melbourne, because trees grow faster the older they get, their capacity for photosynthesis and carbon sequestration increases as they age, 8 Amazing Facts About Trees That You Didn't Know
Look around Ann Arbor. How many young trees do you see surviving in our woods? I know they that between rubbing and feeding on "lower" branches– they have killed at least 6 trees in my yard and the others are just holding on– trees that have been here for at least 30 years.
According to the Pennsylvania DNR:
"Researchers have studied the effects of deer on forest ecosystems for many years, and the impacts of deer on the forest are well established in decades of scientific literature. How do deer impact the forest? Through selective browsing of native plants, shrubs and trees, they influence the vegetation that grows in the forest. For example, deer like to feed on oak seedlings. By preferring oaks, they can effectively diminish the presence of the species in the forest while allowing less preferred species, such as striped maple, to thrive. In the most severe cases, deer can completely prevent the capacity of the forest to renew itself.
"According to USDA Forest Service Inventory and Analysis (FIA) data across all ownerships, approximately 54 percent of Pennsylvania's forests are adequately stocked with regeneration—the young trees and plants that will make up the future forest. Only 41 percent of the sample plots in the north-central region were adequately stocked with tree seedling and sapling regeneration. These numbers indicate that only about half of Pennsylvania's forests would regenerate following an overstory disturbance such as a wind event, insect outbreak or timber harvest. "
Forest Habitat Conditions:
"A healthy forest will consist of young trees, shrubs, and a variety of wildflowers. The presence or absence of some wildflowers such as trillium, Canada mayflower, and Indian cucumber root can be key indicators of the level of deer impact on a given forest site. Another reliable indicator of a healthy forest is an understory, the young trees and plants that grow in the lower layer of the forest. A well developed understory is an essential habitat element for many plants and animals, but it also indicates the forest's capacity to renew itself."
There is a similar study from University of Wisconsin, Deer account for almost half of long-term forest change, study finds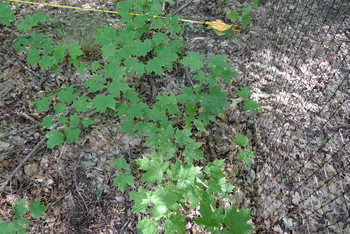 "The two lines of evidence converge on the same general conclusion, Waller says: Deer account for at least 40 percent of the change seen in the forests over the past half-century or so. "The study links microcosm to macrocosm. We have exclosures in the same region where we have documented long-term changes in the plant community over the past 50 years. These are giving us the same message."
The study may actually underestimate the impact of deer, Waller suggests, citing their attraction to the Canada yew, a shrubby evergreen that has been eliminated across most of the north woods. Thus, yew is no longer counted as a baseline species, even though its disappearance likely reflects deer browsing."