November 2019
Ann Arbor approves killing another 150 deer in fifth annual cullMLive, Nov 19, 2019The fate of as many as 150 deer was decided Monday night when the Ann Arbor City Council approved a cull plan for January 2020.
City-hired hunters have killed 386 deer since Ann Arbor received a state permit to shoot or sterilize the animals in 2016. The goal is to control the population and limit impact on plants and other animals in the city's nature areas. Officials also worry about deer-vehicle crashes. [note: no input from biologists included in article]
See a radio-collared deer in the woods? It's OK to shoot them, DNR says, MLive, Nov 14, 2019"If you see one of these deer, they are legal to hunt during regular deer hunting seasons," the department said in a press release. "If you harvest a collared or tagged deer, please register the deer at the nearest deer check station and provide the head for chronic wasting disease testing.
Deer Impacts on Plant Communities in Ann Arbor Natural Areas


Deer-vehicle crashes and the progress Ann Arbor has made with the deer management program
Query to retrieve 2018 data: https://www.michigantrafficcrashfacts.org/querytool#q1;0;2018;c8189;0,71:1


Deer- Vehicle Crashes in the City of Ann Arbor
2018 (Year of 3rd cull and second sterilization) 55
2017:(Year of 2nd cull and first sterilization) 56
2016 (Year of first cull) 73
2015 90
2014 51
Michigan Traffic Crash Facts
The City of Ann Arbor Geographic Information System Data Tool shows crash sites each year
https://www2.a2gov.org/GIS/MapAnnArbor/DeerManagement/
The 4th cull was accomplished in January 2019 but crash data for 2019 will not be available until spring of 2020.
Four days of deer hunting to protect state parks, Star Press, Nov 11, 2019Before the state began annual deer-reduction hunts due to their overpopulation in state parks 26 years ago, browse lines and small, malnourished deer were common in most of the parks. Emaciated deer and browse lines — areas of a woods where the vegetation has been eaten back and stripped to a height that deer can reach — are no longer a problem.
But the hunts continue, to prevent rare and distinctive habitat from being eaten to death, according to the Indiana Department of Natural Resources.

Hunting is on the decline in Michigan — which is a problem, MLive, Nov 10, 2019The decline of hunting and fishing also has an economic impact on communities. Eichinger points to a 2018 study by Michigan State University that found hunting and fishing generates $11.2 billion a year in the state.
Yet another factor is wildlife management. Hunting is one "of the best tools that we have for maintaining balanced, healthy populations," Eichinger said. That's especially true in urban and suburban areas where deer and coyotes can cause problems. In 2018, deer accounted for one of every six vehicle accidents in Michigan — more than 53,000 collisions, including 14 deaths.
Red oak seedlings as indicators of deer browse pressure: Gauging the outcome of different white‐tailed deer management approaches, Ecology and Evolution, Nov 8. 2019After decades of high deer populations, North American forests have lost much of their previous biodiversity. Any landscape‐level recovery requires substantial reductions in deer herds, but modern societies and wildlife management agencies appear unable to devise appropriate solutions to this chronic ecological and human health crisis. We evaluated the effectiveness of fertility control and hunting in reducing deer impacts at Cornell University. We estimated spring deer populations and planted Quercus rubra seedlings to assess deer browse pressure, rodent attack, and other factors compromising seedling performance. Oak seedlings protected in cages grew well, but deer annually browsed ≥60% of unprotected seedlings. Despite female sterilization rates of >90%, the deer population remained stable. Neither sterilization nor recreational hunting reduced deer browse rates and neither appears able to achieve reductions in deer populations or their impacts. We eliminated deer sterilization and recreational hunting in a core management area in favor of allowing volunteer archers to shoot deer over bait, including at night. This resulted in a substantial reduction in the deer population and a linear decline in browse rates as a function of spring deer abundance. Public trust stewardship of North American landscapes will require a fundamental overhaul in deer management to provide for a brighter future, and oak seedlings may be a promising metric to assess success. These changes will require intense public debate and may require new approaches such as regulated commercial hunting, natural dispersal, or intentional release of important deer predators (e.g., wolves and mountain lions). Such drastic changes in deer management will be highly controversial, and at present, likely difficult to implement in North America. However, the future of our forest ecosystems and their associated biodiversity will depend on evidence to guide change in landscape management and stewardship.
East Lansing considers hiring deer sharpshooters, The State News, Nov 4, 2019The survey concluded that 72% of the attendees at the meeting thought there are too many deer in the city. Sixty-five percent reported seeing between one and 20 deer near their homes in the last week.
At the city council meeting, DeShambo pointed to further education and attempts to sterilize the deer or birth control as possible options. Birth control and sterilization efforts like the one in Ann Arbor can be costly. Another possibility is culling, or hiring professionals to come in and kill the deer.
The winters being warmer than Northern Michigan have also led to less deer dying of natural causes and a higher percentage of fawns surviving their early years, Stewart said.
DNR finds more carcass disposal bins as deer season nears, AP News, Nov 4, 2019Waste Management recently decided not to accept carcasses that potentially could be contaminated with the fatal brain disease, which has been found in wild deer in parts of southeastern, central and north-central Minnesota. That sent the Department of Natural Resources scrambling to find replacement bins and haulers ahead of Saturday's firearms deer season opener.
Deer goes through SUV windshield, killing SC driver, APNews, Nov 1, 2019A South Carolina man is dead after he crashed into a deer and it went through the windshield of his SUV.
October 2019
Minnesota deer disposal plan unravels, sparking CWD fears, APNews, Oct 29, 2019A plan to dispose of deer carcasses during Minnesota's upcoming rifle hunting season is unraveling over a waste hauler's fears of spreading chronic wasting disease.
The state placed special dumpsters in parts of central and southeastern Minnesota where the fatal deer brain disease has been found. The plan was to use the containers to safely dispose of potentially infected deer carcasses. But Waste Management will not accept deer carcasses infected with chronic wasting or that have the potential of being infected. With Minnesota's rifle season about to start, officials worry hunters will toss bones onto the land where the disease can spread to other deer.
Brain illness spread by ticks has reached UK, BBC, Oct 29, 2019People who spend time walking in countryside areas where infected ticks can be found are at risk of being bitten and catching diseases they carry.
Tick-borne encephalitis virus is already circulating in mainland Europe and Scandinavia, as well as Asia. Most people who catch the virus will have no or only mild flu-like symptoms. But the disease can progress to affect the brain and central nervous system and can sometimes be fatal.
Shaker Heights City Council OKs 2019-20 deer culling that includes private property pilot, Cleveland.com, Oct 29, 2019Shaker Heights plans to introduce a pilot program this season for culling deer on private property, as well as on public lands.
Deer movement studies provide insight into CWD spread, management, MI Dept of Natural Resources, Oct 25, 2019In Michigan, this disease challenges not only the foundation of wildlife conservation, but the state's long-standing hunting traditions. The initial detection of the disease in Michigan also was unique in that, when it was found in Meridian Township, a Lansing suburb, it marked the first time a state had identified the initial cases of the disease from a more suburban environment, rather than a rural area.
Jonathan Trudeau is on the research team heading up the study in the Lower Peninsula. He explained that, because Michigan's landscape is varied, deer in the southern half of the Lower Peninsula likely don't behave in the same manner as deer in the western and central Upper Peninsula.
"The factors that influence the spread of the disease are likely very different than those in the U.P."
The MSU research team is looking particularly at how far and how frequently deer in these suburban environments disperse – meaning that they permanently move from one area to another – and whether certain habitat structures or landscape features facilitate or hinder those types of movements. Long-distance movements have the potential to drastically impact the spread of CWD across a broad landscape, but researchers aren't just looking at long-distance or long-term movements.
Tecumseh approves second deer cull, The Sault News, Oct 25, 2019The city council voted Monday to once again contract with the U.S. Department of Agriculture (USDA) Wildlife Services. Despite conducting a lethal cull of urban deer last winter, Tecumseh residents have felt no change in the problems caused by the deer, specifically to their gardens and landscaping. Swallow mentioned that there were nonlethal methods, such as catch-and-release sterilization used by Ann Arbor, but that costs $2,000 per deer.
Swallow estimated that a second cull with the USDA would cost the city $7,500 and is the most cost-effective option. The venison would be donated to local food pantries.
Chronic Wasting Disease Confirmed In Michigan Deer, Patch, Oct 24, 2019Gratiot County's first CWD-positive deer was discovered in late 2018. CWD is a fatal neurological disease that affects white-tailed deer, elk and moose. To date, the disease also has been confirmed in Clinton, Dickinson, Eaton, Ingham, Ionia, Jackson, Kent and Montcalm counties.
Arkansas hunter dies after deer he shot got back up and attacked him, officials say, USAToday, Oct 24, 2019"Evidently, it got up and attacked him and he was gored several times," Stephens said. Stephens said the accident is not an isolated incident. In 2016, another hunter was gored by a buck in Ashley County in southern Arkansas.
Oh, deer! Overpopulation is taking a toll on Wisconsin's forests, Isthmus, Oct 24, 2019By some estimates, there are now more deer on Wisconsin's landscape than since the Ice Age. With 2019 herd estimates ranging between 1.9 and 2 million-plus animals, the annual fall hunt for the white-tailed deer — the state's most iconic animal after the cow — should be a productive one for the more than half a million gun and bow hunters who will take to the field. But the abundance of deer, especially in the southern portion of the state but also in the north where the regeneration of certain tree species is now at risk, continues to be a fraught bio-political issue.
Studies by retired UW-Madison forest ecologist Don Waller, an expert on the effects of deer on forest ecosystems, have shown that plant species diversity due to an overabundance of deer has been reduced by 15 percent. Tree species such as hemlock, white cedars, yellow birch and pines, among others, are failing to regenerate, changing forest composition. Likewise, the native plant communities that make up the forest understory are listed by Waller as 'losers' in the deer vs. plant calculation. Native orchids, lilies and a litany of less flashy forest herbs rank high on the deer menu. "There are a lot of cascading effects on other species," says Waller, adding that browsing deer often pave the way for invasive plants.
DNR reports CWD-positive deer in Hamilton Township, Gratiot County, DNR News, Oct 24, 2019Hunters encouraged to check deer in southeastern Gratiot and southwestern Saginaw counties
The 76 Michigan cities and townships with the most deer-vehicle accidents in 2018, MLink, Oct 22, 2019More than 53,000 Michigan motorists collided with deer in 2018, and such crashes accounted for more than a quarter of crashes in October and November, according to Michigan State Police data.
Deer-vehicle crashes injured more than 1,300 people and killed 14 last year. Ann Arbor 55 crashes. Scio Township was # 12 in the state.
Pennsylvania Game Commission raises alarm on deadly deer disease, Pittsburgh Post-Gazette, Oct 20, 2019Chronic wasting disease is killing white-tailed and mule deer in 26 states and two Canadian provinces, and scientists don't know how to slow its spread. Because it hasn't infected humans, the Pennsylvania Game Commission and other wildlife agencies are struggling to find ways to convince the public that CWD threatens state and provincial economies, wildlife density and habitat and the quality of life of every citizen.
"It lives in the environment forever, there's no cure and it's not like it's [the disease] coming someday — it's already here."
Last year the disease was detected near Central Pennsylvania's wild elk, a conservation success story and ecotourism magnet. Ecologists consider deer a "keystone species" because they eat the habitat that every other animal needs for food and shelter. The rapid elimination of a keystone species in CWD hotspots, they say, would have dire consequences for all plants and animals, as well as the people who enjoy the wildlfe.
How to Avoid Collisions With Deer This Fall, Consumer Reports, Oct 22, 2019The State Farm insurance company estimates that there were over 1.9 million animal collision insurance claims this past year. The costs really add up. The Highway Data Loss Institute (HLDI) reports that the severity of crashes also increases in the fall. The average cost of November animal-strike claims over the past 13 years was $3,560, compared with $2,801 for February, the month with the least severe crashes.
Annual Montgomery County Deer Population Management Underway, Connections Newspapers, Oct 19, 2019Eight parks were added to the program this year, bringing the total to 54 parks where archery and/or shotgun managed deer hunting or Park Police-based sharpshooting operations will take place. The 54 parks comprise more than 50 percent of Montgomery Parks total land area, according to a press release.
Ann Arbor releases plan to kill up to 150 more deer this winter, MLive.com, Oct 22, 2019City officials are preparing for Ann Arbor's fifth-annual deer cull in January, with a goal of killing up to another 150 deer, according to a newly released plan. This would be the fifth year of culling under a five-year permit issued by the state, City Administrator Howard Lazarus stated in his memo. The city has been working with Connecticut-based contractor White Buffalo Inc. to carry out both the lethal and nonlethal aspects of the city's deer management program.
New test diagnoses Lyme disease within 15 minutes, Medical Express, Oct 11, 2019Some 300,000 people in the U.S. are diagnosed with Lyme disease every year. Caused by Borrelia burgdorferi and transmitted by the bite of infected Ixodes ticks, the disease if left untreated can cause serious neurologic, cardiac, and/or rheumatologic complications. Sia's group worked in collaboration with Maria Gomes-Solecki from Immuno Technologies, which found a combination of three proteins that identified antibodies specific to the B. burgdorferi bacterium in the serum, and OPKO Health, which provided microfluidic cassettes. Their findings were published today in the Journal of Clinical Microbiology.
Muskegon considering cull to reduce city's deer population, 13OnYourSide, Oct 7, 2019The City of Muskegon has concluded a year long study into the deer population in the Bluffton and Beachwood neighborhoods, and a cull is one option being considered by city leaders to reduce the population. The cost of a cull could fall somewhere between $25,000 and $50,000 to remove between 25 and 50 deer. According to Muskegon Police Department crash data from 2008-2018, one-third of reported car-deer collisions in the city limits have occurred within Bluffton and Beachwood Neighborhoods.
Why There's Still No Lyme Vaccine for Humans, Atlantic, Oct 6, 2019"Every manufacturer that has considered this since 2002 has judged that it's unlikely that we're going to make a profit on this vaccine," Poland says. "In the second decade of the 21st century, you can protect your dog against Lyme disease, but not your children."
There are signs, however, that the field is beginning to warm to a human Lyme vaccine. In December 2016, Congress established the Tick-Borne Disease Working Group to help identify research priorities. The diverse, 14-member working group within the Department of Health and Human Services includes researchers, physicians, patients and their family members, patient advocates, and employees from a variety of federal agencies. Last December, the group released its first report to Congress, calling for increased federal funding to address the "serious and growing threat" of tick-borne diseases.
In April, the National Institutes of Health announced that it intends to commit $6 million in fiscal year 2020 to more than a dozen projects aimed at the prevention of tick-borne diseases, including vaccine research.
Video Shows Deer Crashing Through Window of Salon, NYTimes, Oct 5, 2019The animal leapt through the front display window of the Be.you.tiful hair salon in Lake Ronkonkoma at around 12:20 p.m., breaking the glass pane and injuring one woman, according to the police.
Residents say Grosse Ile has a deer problem, and township isn't solving it, Detroit Free Press, Oct 4, 2019From 2009 to 2018, the island had an annual deer cull. Four permitted hunters would cull an allotted amount of deer, keeping the population in check and the island healthy. In January, Grosse Ile's police chief canceled the 2019 cull. In the months since, township residents have increasingly questioned why, and township officials have been unsuccessfully trying to give an answer that sticks.
Michigan's largest deer processing facility severely damaged in fire, Free Press, Oct 4, 2019Michigan's largest deer processing facility was severely damaged in a large fire early Friday morning. The facility's destruction also comes just as Michigan's deer hunting season is opening.
Michigan hunters warned about catching tuberculosis from deer, Detroit Free Press, Oct 1, 2019The U.S. Centers for Disease Control and Prevention has issued an advisory, warning that it is possible to catch a form of tuberculosis when field-dressing infected deer. It's called M. bovis tuberculosis, and it's a form of the disease found mostly in cattle, elk and deer.
In Michigan, the deer in a four-county region of the northern Lower Peninsula: Alcona, Montmorency, Oscoda and Alpena are most likely to carry the infection. A small percentage of white-tailed deer from other parts of the state also have been found to carry the disease.
September 2019
Deer infected with tuberculosis can pass disease to hunters, CDC warns, USA Today, Sept 28, 2019Hunters can contract a form of tuberculosis from deer, according to the Centers for Disease Control and Prevention. The agency published a report last week that looks at a 2017 case from Michigan in which a 77-year-old man was diagnosed with pulmonary tuberculosis caused by mycobacterium bovis.
The Big Apocalyptic Bird Story Everyone Read This Week May Have Missed Some Necessary Nuance, Mother Jones, Sept 28, 2019Todd Arnold, a conservation biologist at the University of the Minnesota who studies bird population dynamics, made a similar point. "If you take away the 40 biggest decliners from the dataset, then what's left behind is hundreds of birds, some of which are declining, some of which are increasing. But, on average, the increases outweigh the declines," Arnold said.
The battle over wild horses, Washington Post, Sept 18, 2019 Over three years, major ranching and hunting organizations, represented by Goicoechea and others, quietly negotiated with animal welfare groups, including the Humane Society of the United States. These strange bedfellows recently unveiled a wild horse proposal that they say meets both sides' goals: It keeps mustangs alive, and it gets a lot more off the land. There are just a couple catches: It would cost $50 million a year, swelling the BLM's horse budget by two-thirds. And most wild horse advocacy groups hate it.
Deer hunting season to begin at Columbia Land Conservancy properties, HudsonValley360, Sept 26, 2019
CHATHAM – Columbia County's deer population causes damage to cars, forests, and crops every year. To responsibly manage the deer population at Public Conservation Areas, the Columbia Land Conservancy is partnering with local hunting clubs this deer season. "Our hunting program is designed to reduce deer populations so that native plant species can thrive. We are really grateful to the sportsmen's clubs for providing volunteers to monitor the hunting."
The battle over wild horses, Washington Post, Sept 18, 2019 Over three years, major ranching and hunting organizations, represented by Goicoechea and others, quietly negotiated with animal welfare groups, including the Humane Society of the United States. These strange bedfellows recently unveiled a wild horse proposal that they say meets both sides' goals: It keeps mustangs alive, and it gets a lot more off the land. There are just a couple catches: It would cost $50 million a year, swelling the BLM's horse budget by two-thirds. And most wild horse advocacy groups hate it.
Not Just Lyme Disease: Study Finds Multiple Agents of Tick-Borne Diseases, SciTechDaily, Sept 16, 2019In a study published in mBio, a journal of the American Society for Microbiology, Jorge Benach and Rafal Tokarz, and their co-authors at Stony Brook University and Columbia University reported on the prevalence of multiple agents capable of causing human disease that are present in three species of ticks in Long Island. "Polymicrobial infections represent an important aspect of tick-borne diseases that can complicate diagnosis and augment disease severity," says corresponding author Jorge Benach, PhD, Distinguished Professor at the Department of Microbiology and Immunology at the Renaissance School of Medicine at Stony Brook University. "Some of the polymicrobial infections can be treated with the same antibiotics, but others require different therapies, thus enlarging the number of drugs to treat these infections."
City will spend another $2.5M to resume deer vasectomies for five more years, SILive, Sept 16, 2019The Parks Department awarded White Buffalo Inc. the $2.5 million contract to lead the next five-year round of vasectomies, and with the new contract, the company stands to make a total of $6.6 million for what will become an eight-year effort to sterilize the Island's bucks.
Lyme Disease Is Baffling, Even to Experts, The Atlantic, Sept 2019After a decade and a half in the dark, I at last had a possible name for my problems. Yet instead of feeling relief, I felt I had woken into a nightmare. I wasn't sure whether the disease I had really was untreated Lyme. Even if I did have Lyme, there was little agreement about how to treat a patient like me—whose test results were equivocal and who had been diagnosed very late in the course of the disease—and no guarantee that I would get better if I tried antibiotics.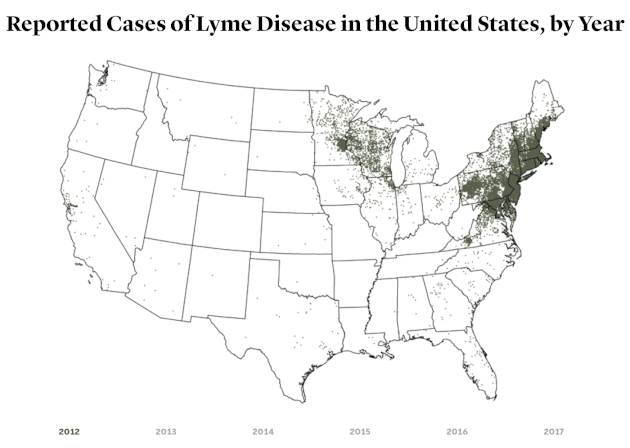 Recently Added
2018 State Park Deer Reduction Results, Resource Management & Research Report, Indiana State Parks, May 13, 2019The year 2018 marked the 25th anniversary of deer reductions in Indiana State Parks. The first reduction hunt was held in 1993 as an effort to mitigate damage to vegetation and unique habitat by an overpopulation of white-tailed deer (Odocoileus virginianus) in Brown County State Park. Multiple parks have hosted deer reduction hunts annually since 1995 and have included up to 21 parks and one natural area per year. The decision to start reductions at individual parks has been based on scientific vegetation monitoring. Decisions to continue reductions at individual parks are made annually using harvest data and consideration of occurrences of rare, threatened, and endangered flora that could be affected by excessive browsing by deer. In 2018, 5,383 hunter efforts were used to assist 17 parks, one recreation area, and one natural area. The result was a harvest of 1,302 deer. Daily standby drawings were held at three parks. Such drawings are conducted from time to time to reduce the impact of originally drawn hunters not showing up or not returning on the second day of each hunt. The 2018 harvest yielded a mean harvest per effort of 0.26, which is higher than the program target of 0.22-0.20.